Ebony Flowers
Hot Comb
Appeared on best of the year lists from The Washington Post, NPR, The Guardian, and more! Nominated for an NAACP Image Award and Winner of the Believer Book Award for Fiction!

Hot Comb offers a poignant glimpse into black women's lives and coming-of-age stories as seen across a crowded, ammonia-scented hair salon while ladies gossip and bond over the burn. The titular "Hot Comb" is about a young girl's first perm—a doomed ploy to look cool and stop seeming "too white" in the all-black neighborhood her family has just moved into. In "Virgin Hair," taunts of "tender-headed" sting as much as the perm itself. "My Lil Sister Lena" shows the stress of being the only black player on a white softball team. Lena's hair is the team curio, an object to be touched, a subject to be discussed and debated at the will of her teammates, leading Lena to develop an anxiety disorder of pulling her own hair out. Throughout Hot Comb, Ebony Flowers re-creates classic magazine ads idealizing women's need for hair relaxers and products. "Change your hair form to fit your life form" and "Kinks and Koils Forever" call customers from the page.

Realizations about race, class, and the imperfections of identity swirl through these stories and ads, which are by turns sweet, insightful, and heartbreaking. Flowers began drawing comics while earning her Ph.D., and her early mastery of sequential storytelling is nothing short of sublime. Hot Comb is a propitious display of talent from a new cartoonist who has already made her mark.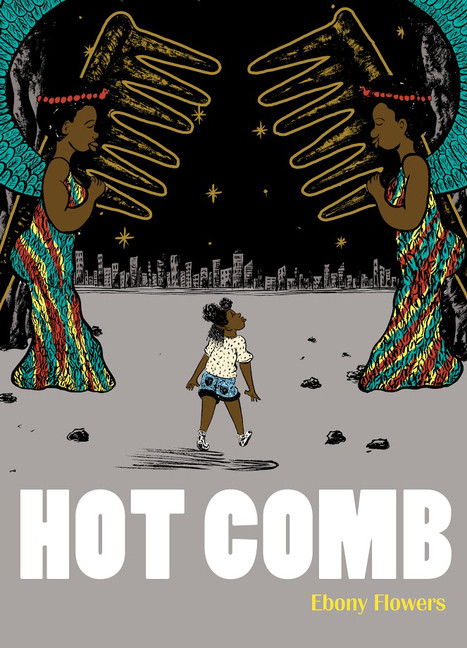 Excerpted on New Yorker.com! Featured in summer reads lists from Publishers Weekly, Elle, Bustle, Library Journal, and MS. Magazine!

"Vivid and resonant… In the eight stories of Hot Comb, a mix of autobiography and fiction, the thread throughout is black women's hair — as a source of intimacy, community and tension."—The New York Times Book Review

"[A] exhilarating collection...All of the stories in [Hot Comb] confront the attitudes inscribed in the commonplace language of black hair that is wild, untamed, and raw in its natural state, and yet so fragile when fixed that it can be undone by a drop of water."–The Comics Journal

"[Hot Comb is] rich with both sorrow and celebration as it champions black womanhood and family ties... How black hair is treated (literally and symbolically) becomes the lens to explore both oppression and community."—Publishers Weekly, Starred Review

"These coming-of-age tales are all connected through that epicenter of community and beauty norms, the hair salon."—Elle Magazine

"In a Proustian spirit, Flowers uses the hair-salon scent of ammonia and the caresses and yanks on the scalp to evocatively dip into her childhood memories of growing up — in Severn, Maryland and southeast Baltimore — and to re-conjure her realizations about class, gender, and the regulation of black bodies... Hot Comb is poignant, funny, infuriating, and gorgeous."
—LA Review of Books

"Recounting her own hair-centric experiences alongside those of other black women, Flowers offers a rich, multi-dimensional exploration of how relationships with hair change over time. Flowers is also an ethnographer, and her passion for examining people and cultures results in stories that are sensitive to individual circumstances while tackling bigger issues faced by black women."—The AV Club

"Hot Comb is several things all at once: book with enough childhood stories to possibly be considered coming of age, a collection of short stories, a graphic novel, a memoir, a debut book, an ode to Black hair and the women it belongs to."—Black Nerd Problems

"This rich collection of comics brilliantly explores the ways that Black women and girls use hair care to console, construct, and criticize themselves and one another."—School Library Journal Starred Review

"Flowers...offers a refreshing perspective about our hair as a means of community formation and the space that the ritual provides for us to process difficult life moments. Her self-penned drawings and accompanying dialogue illustrate the complexities of Black women's relationships with each other and our hair, following our strands through beauty salons and living rooms, on subways, and even to the grave."—Bitch Media

"In Hot Comb, Flowers graphic short stories uncover more anxieties experienced by Black and biricial females, where their tresses are too curly too straight or even shaved right off. Along the way Flowers recreates classic ads to illustrate how mass media adds to the cauldron of social pressure."—Now Toronto

"Flowers, winner of a Rona Jaffe Foundation Writers' Award, offers a series of poignant and insightful stories in a graphic novel that explores the lives of black women, the cultural complexities around their hair, and issues of race and class."—Publishers Weekly

"Ebony Flowers is an important new voice... There's so much to enjoy and unpick here, great storytelling with multiple layers celebrating family, friendship, race and community."—The Quietus

"Flowers is able to pack her frames with the kind of detail that brings a narrative fully alive, while her deceptively naive drawing style belies the psychological depth of her character portraits, pulling you in by stages until you feel yourself a participant in these women's travails."—Montreal Gazette

"With Hot Comb, Ebony Flowers has created one that's particularly engaging, with a mixture of day-to-day events and compelling storytelling that shows she deserves to be seen as a breakout talent."—Toronto Star

"Flowers' debut work, Hot Comb, is a memoir and primer on Black hair that pulls no punches about the time and pain involved in hair pressing, relaxing, braiding, and more, but along the way Flowers unlocks way more than hair mysteries. Flowers wraps her short stories of friendship, family, and conflicting viewpoints up under the recurring theme of: "Who did your hair " The end result is a whole new look into a world many never get to see. "—Portland Mercury

"Hot Comb is Flowers' debut book and it's a hugely impressive one, placing Flowers' intellectual strength upfront....Hot Comb is like a masterclass in how to make comics."—Comics Beat

"In the titular tale, a young girl tries to change her hairstyle to avoid accusations of being "too white" for her new, predominantly Black neighborhood, allowing Flowers to interrogate intersections of race, class and identity with a perspective that is vital in comics, now more than ever."—Paste Magazine

"Hot Comb provides a glimpse into a set of very specific gendered, racialized and generational experiences that are nevertheless relatable for any reader who has experienced growing pains, complex family dynamics and struggles with self-image and identity."—Winnipeg Free Press

"An honest assemblage of stories and narratives that elaborates and celebrates the legendary connection of Black women and their hair and ultimately paints the struggle that they endure, sometimes heartbreakingly so, in their most delicate moments. The stories by Flowers, is propitious, gifted and masterfully told. The art by Flowers, is sophisticated and rich in broad strokes. Altogether, a tome that will inoculate compassion and understanding into most readers even when the world resists the need to celebrate our differences."—Graphic Policy

"Hot Comb makes itself clear that it's not about male desire, or male pleasure. It's about what Black women think: of themselves, of each other, of their communities. They talk to each other while they're at salons, they braid each others' hair, they make little refuges from the judgment of the rest of the world...Flowers is a remarkable cartooning talent"—Seattle Review of Books

"Hot Comb explores the complex relationship between appearance, empowerment, subjugation, and society."—Bustle

"These complex stories about the 'ordinary' lives of black girls, mothers, sisters, aunties, grandmas, nieces, and friends are extraordinary. What Ebony Flowers brings to comics is fresh and absolutely groundbreaking. I've been waiting for a book like this forever."—Lynda Barry, author of One Hundred Demons

"In Hot Comb, Ebony Flowers has created an original collection of haunting short stories about the Black experience that go far beyond hair and beauty. Issues of race, class, gender and family bonds are all explored with Flowers' vivid and lively comics. I could see this book as assigned reading in college classrooms and as a bookclub pick for groups looking to engage with current cultural issues in a new and exciting way."—Lori L Tharps, co-author of Hair Story: Untangling the Roots of Black Hair in America

"An intimate and truthful collection of stories from an exciting new voice in comics."—Jillian Tamaki, author of Boundless

"Hot Comb is a relaxed and relatable experience. I honestly could not put it down after reading the first page. With a charming mix of humor, heart, and a hard dose of reality, this book is a must read for all."—Taneka Stotts, editor of ELEMENTS: Fire An Anthology by Creators of Color

"Hot Comb will take every Black woman back to her first relaxer—not just the process itself but the peer pressure to "perm" and the unexpected reactions in the aftermath. Flowers shows us why it's always about more than just hair. What a delightful read!"—Dr Cheryl Thompson, author of Beauty in a Box: Detangling the Roots of Canada's Black Beauty Culture
eBook ISBN :
9781770464193
Color :
Illustrations Throughout
PAST EVENT
Speaking engagement
Sunday, November 22, 2020
10:30am
PAST EVENT
Speaking engagement
Wednesday, September 9, 2020 to Monday, October 19, 2020
10:00am
PAST EVENT
Festival
Saturday, October 3, 2020 to Thursday, October 15, 2020
02:00pm
For Fans of: Short stories, comic strips, WOC perspectives Similar Books: The Hard Tomorrow, Grass, BTTM FDRS With ...