Sylvie Rancourt
Sylvie Rancourt was born in Northern Quebec and moved to Montreal in the early 1980s, where she began performing as a nude dancer and recounting her experiences in comics form. In the 1990s, Rancourt collaborated with Jacques Boivin who translated and illustrated her stories for the American market, selling over 200,000 copies. A compilation of early Melody comics was recently published in France and nominated for a prize at the 2014 Angoulême Comics Festival. Sylvie Rancourt lives in Abitibi, Canada, with her husband and five kids, and she spends much of her time painting.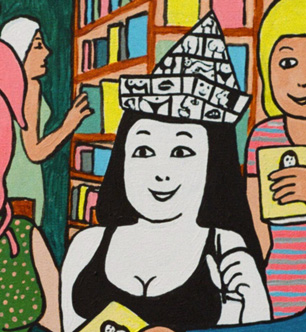 PAST EVENT
Friday, November 3, 2017
06:00pm
PAST EVENT
Friday, May 27, 2016
09:00am
PAST EVENT
Saturday, October 10, 2015
09:00am
There's a particularly fanciful example in This is Serious: Canadian Indie Comics, an ambitious survey now showing at ...
Awards season is upon us and we're thrilled about all the lovely nominations coming in. The 2016 Doug Wright Award Nominees…
In case you missed it, it's been 25 years of existence for Drawn & Quarterly. This past year has been full…
As 2015 nears to a close, here's our personal Annual Best-Of List: all the books Drawn & Quarterly published this year,…