Geneviève Castrée
Geneviève Castrée (1981-2016) was born in Québec. Swept away by comics, she wanted to be a cartoonist from the age of nine onwards. Castrée felt the urge to publish her mini-comics early, appearing in the Montreal underground scene while she was still a teenager. In addition to her books, Castrée had a number of exhibitions in Canada, the United States, Europe, Australia, and Japan. Castrée spent her adult life in the Pacific Northwest with her husband and daughter, where she drew, made small sculptures out of porcelain, and played music under the name Ô PAON.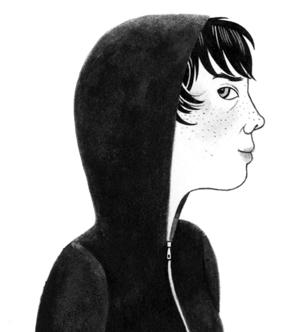 Young Adult Library Services Assoc.
Nominated for Great Graphic Novel for Teens for Susceptible
Doug Wright Award
Nominated for Best Book for Susceptible
Ignatz Award
Nominated for Outstanding Graphic Novel for Susceptible
PAST EVENT
Gallery Show
Friday, June 21, 2019 to Sunday, January 5, 2020
11:00am
PAST EVENT
Gallery Show
Thursday, May 24, 2018 to Saturday, June 16, 2018
05:00pm
PAST EVENT
Gallery Show
Tuesday, January 26, 2016 to Saturday, March 12, 2016
06:30pm
There's a particularly fanciful example in This is Serious: Canadian Indie Comics, an ambitious survey now showing at ...
Geneviève Castrée: Complete Works 1981-2016 is a D+Q Work in Progress. A monograph collecting all of Castree's visual art, mini-comics, sketchbooks,…
The first major museum retrospective of Canadian cartooning, showcasing Canada's incredible comics talent, is co-curated by Joe Ollmann and Alana Traficante.…
We're so proud of all of the lovely books we published in 2018, and what makes us even more proud is…