Art Spiegelman
Born in Stockholm in 1948, Art Spiegelman was the first comics artist to win the Pulitzer Prize, which he received for his groundbreaking bestseller, Maus. He co-edited Raw magazine and his comics have appeared in the New Yorker, New York Times, Playboy, and Harper's. He has been named one of the 100 Most Influential People by Time magazine, elected to the Art Director Club's Hall of Fame, made a Chevalier de l'Ordre des Arts et Lettres in 2005 (promoted to Officier in 2012), and played himself on The Simpsons. In 2011, Spiegelman was elected President of the Angouleme International Comics Festival and awarded the Grand Prix of the Festival. He lives in New York City.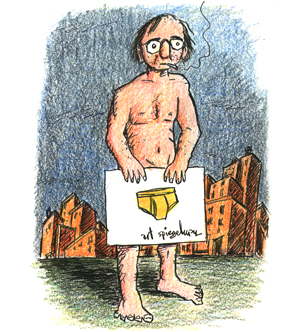 PAST EVENT
Sunday, February 17, 2019
11:30am
PAST EVENT
Tuesday, January 8, 2019
06:00pm
PAST EVENT
Thursday, November 8, 2018
07:00pm
Cartoonist Art Spiegelman, as well as writers Sherman Alexie, Roger Angell, Dave Eggers, and Sharon Olds, are the five n...
YOU MIGHT ALSO LIKE
Neil Gaiman and Art Spiegelman in discussion on April 4, 2014 at the Sosnoff Theatre, Bard College.
Art Spiegelman and Phillip Johnston: WORDLESS! Words / Music / Comix. Picture stories by Frans Masereel, H. M. Bateman...
Art Spiegelman discusses his process and his current exhibition at The Jewish Museum, on view now through March 23, 2014...
Hello Brooklyn! D+Q may not have a booth at this year's Comic Arts Brooklyn but we sure have a great lineup…
Hello, Ohio! This weekend is the inaugural Cartoon Crossroads Columbus, and judging by its all-star lineup and stacked programming schedule, it…
This week's events in New York City: Art Spiegelman is performing WORDLESS! for the last time, Moomin on the Riviera is…